Canon CLI-8 Black Ink Cartridge ( 8BK ) (CLI-8BK)
Compatible CLI-8BK Replacements
The following cartridges are brand-new compatible replacements for the CLI-8BK ink cartridge. They can be used in your printer instead of the Canon CLI-8BK and cost you a fraction of the price:
£5.95 inc VAT
£2.24 inc VAT
£3.50 inc VAT
£17.37 inc VAT
£9.99 inc VAT
£9.99 inc VAT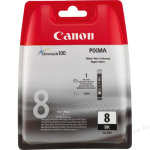 In Stock
Works With
The CLI-8BK ink cartridge is suitable for use in the following printers:
Pixma
These Canon Pixma printers use the CLI-8BK ink cartridge:
Technical Details
Part Number:

CLI-8BK

Manufacturer:

Canon

Yield:

13ml

Condition:

Brand-new Canon-original item

Product Type:

InkJet Printer Cartridges
Description
The Canon CLI-8BK is a Canon-original cartridge. You're guaranteed of 100% compatibility with your Canon printer and the best image quality available. In return, you'll pay more than you would for a compatible replacement from a third-party manufacturer.
Classy Printing Results with Canon CLI-8 Ink Cartridge
There might be over a thousand different types of ink cartridges available but top quality ink cartridges like Canon CLI-8 are a bit hard to find. Because of the superb quality and amazing printing results, Canon CLI-8 ink cartridges are one of the most popular ink cartridges in all over the Europe. When you have a huge choice of similar products to look from, to choose a single item becomes very difficult sometimes. That is the reason why some buyers get confused in buying the right ink cartridge for their printers. While the rest of the buyers are smart enough to find themselves the best quality ink cartridge that perfectly suits their printers. No wonder why these amazing quality Canon CLI-8 ink cartridges are so popular these days.

Canon is the manufacturer of Canon CLI-8 ink cartridges. Everybody knows that Canon is a huge and a top quality production company which only believes in making top quality products. Canon CLI-8 ink cartridges contain 13ml of ink (yield) and give exciting, bold and bright printing results. Canon CLI-8 ink cartridges are usually used with Canon photo paper and together the sort of printing results they give is just excellent as they give crystal clear, long lasting, fade-proof printing results that can also resist ectreme environmental conditions like humidity, light and heat. The part number of these products is CLI-8PM and they are easily compatible with a wide range of quality printers. So this ink cartridge is the best for you as it is one of the cheapest ink cartridges available.
Canon CLI-8BK Ink Cartridge
Canon CLI-8 BK (0620B001) is a black cartridge which is 13ml in capacity. Canon CLI-8 BK belongs to Chromalife100 family. Canon CLI-8 BK ChromaLife100 ink combined with Canon photo paper produces long-lasting, beautiful photos. Using ChromaLife100 ink helps inkjet photos to withstand harsh environmental conditions like light, heat, humidity and gases in the air for longer without fading.
Key Features of Canon CLI-8 Ink
Delivers up to 100-year album life.
ChromaLife100 ink preserves the lasting beauty of your photographs when combined with Canon genuine photo paper.
Up to 30 year light fastness and up to 10 year gas fastness prints are possible with use of ChromaLife100 ink. ChromaLife100 ink has heat and humidity resistant properties which increases colour longevity.
Popular CLI-8BK-Related Products
The following cartridges are often used in printers with the CLI-8BK:
| | |
| --- | --- |
| £9.65 inc VAT | £8.49 inc VAT |
| £9.63 inc VAT | £8.49 inc VAT |
| £22.90 inc VAT | £17.83 inc VAT |
| £8.92 inc VAT | £8.92 inc VAT |
Blister Versions of the CLI-8BK Cartridge
The following cartridges are 'blister' versions of the CLI-8BK ink cartridge. They are absolutely identical cartridges to the CLI-8BK but supplied in significantly smaller 'blister' packaging, meaning that they benefit from completely free shipping:
| | |
| --- | --- |
| £10.25 inc VAT & shipping | |