Jettec Replacement High Capacity Black Ink Cartridge (Alternative to HP No 940XL, C4906A) (H940BXL)
Original C4906AE Cartridge
The following cartridge is the brand-new, OEM, HP-original equivalent to the H940BXL ink cartridge. It is the original HP cartridge that was designed to work in your printer to deliver highest-quality results: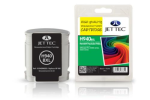 In Stock
Works With
The H940BXL ink cartridge is suitable for use in the following printers:
OfficeJet Pro
These HP OfficeJet Pro printers use the H940BXL ink cartridge:
Technical Details
Part Number:

H940BXL

Manufacturer:

Jet Tec

Yield:

Capacity 78ml

Product Type:

InkJet Printer Cartridges
Description
The Jet Tec H940BXL is a compatible replacement version of the HP C4906AE. It provides high-quality prints at a lower cost of £6.80 inc VAT. In comparison, the HP-original C4906AE costs £21.09 inc VAT. That means a saving of 68% with the Jet Tec H940BXL!
Compatible HP 940xl ink cartridges by JetTec
Not astoundingly, ever since there are many other people out there like you, you have gotten extremely tired of paying huge amount of cash for simple Jettec compatible cartridge of HP 940xl ink cartridges. Perhaps you have been putting off the ink cartridge shopping trip for as long as possible while your printer keeps warning you of that "unfilled cartridge", but there's no reason to be panic to any further extent. Even though it might not seem like it, there are ways to reduce how much an HP 940xl compatible ink cartridges costs you.

The most likely option for many people is to keep using compatible HP 940xl ink cartridges by JetTec as they already reliance on the brand, but to shop around for a better price instead of buying at the closest or most expedient store. Just as any other product, prices can change based on the supplier. Google Products is one of the best places to start your hunt for the best price. This URL, like many others, has made the work a lot easier for you. It will display a list of suppliers and vendors along with their prices, and even offer sorting options, based on what you enter into the search question.
Although Compatible HP 940xl ink cartridges by any third party vendor may save you a small amount, more savings could be achieved if you consider buying HP 940xl compatible cartridges made by JetTec in large quantities at online stores. When you pay money for in large quantities, the costs incurred by the producer are not as much of and a portion of those savings are frequently passed on to you.
Popular H940BXL-Related Products
The following cartridges are often used in printers with the H940BXL:
| | |
| --- | --- |
| £3.99 inc VAT | £3.85 inc VAT |
| £3.85 inc VAT | £3.85 inc VAT |
| £6.80 inc VAT | £6.80 inc VAT |
| £6.80 inc VAT | £2.02 inc VAT |